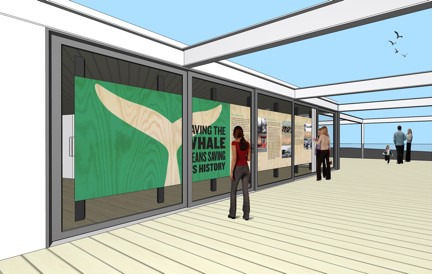 The launch of a National Whale Centre as a virtual museum some two years ago was the first step in establishing an internationally connected institution that links the general public, interactive travellers, cetacean experts, museums and environmental organisations through an information sharing portal.
The Centre has now reached a stage where it is in a position to open a display and information centre on the Picton Foreshore during the year.
On 18 January at the time of the Picton Maritime Festival the Centre opened its doors to the public with an indicative display highlighting the thematics of its future displays.
Since then the Centre has received a Lottery grant to complete a full fit-out for a targeted launch on 15 November with an accompanying programme of displays and related event in the Centre and other sites.
The images above are indicative of the prototype display and development centre we are hoping to reveal to local, national and international visitors. So keeping watching this page.
The creation of the National Whale Centre is the result of many years of research into the creation of a Picton Foreshore attraction which addresses the unique position of New Zealand as an ocean nation with a 172 plus years history of whaling and subsequent shift to more sustainable aquamarine industries and associated ecotourism ventures.
At the same time 2014 is the 50th anniversary of the cessation of commercial whaling in New Zealand waters with the closure of whaling activities in Cook Strait.